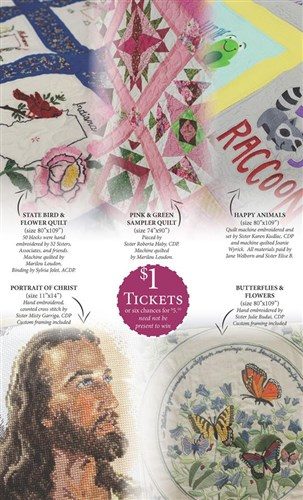 We are happy to announce the winners of the 2017 Heritage Day Raffle.
1. State Bird and Flower Quilt: Scott M., New Braunfels TX
2. Pink and Green Sampler Quilt: Associate Elayne S, The Woodlands, TX
3. Sr. Karen's Happy Animal Quilt: Patty S., Garden Ridge, TX
4. Portrait of Jesus by Sr. Misty: Mr. and Mrs. Buttry, Colleyville, TX
5. Sr. Julie's Butterfly and Flower Embroidery: Mary K., Castroville, TX
Many thanks to all those whose labor and time created these beautiful items and to all who purchased raffle tickets.  Please save the date for next year:  October 14, 2018.