Chapel 
Reservations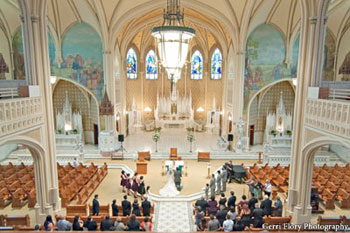 Thank you for your interest in planning your wedding in the Sacred Heart Conventual Chapel at Our Lady of the Lake. Before proceeding any further we want to make sure you meet the necessary guidelines.
Either the bride or the groom is Catholic and a priest or Deacon will preside
The bride or the groom has some present or former relationship with the Congregation of Divine Providence or with one of our sponsored institutions (Our Lady of the Lake University, St. Martin Hall, or Providence Catholic School).
Reservation Process
Follow these steps for reserving the Chapel.
Print and fill out the Wedding Reservation Form and bring it when you come to meet with the Our Lady of the Lake University Reservation Coordinator.
Carefully review the packet of the Policies and Procedures (you may obtain your copy from the Reservation Coordinator) regarding weddings at the Chapel.
Meet with the Priest/Deacon who will perform your wedding, review the Procedures, arrange for and complete the necessary marriage preparation or Engaged Encounter.
Request and obtain a letter from your Pastor for permission to be married at the Chapel. Receipt of this letter is necessary before scheduling the wedding date.
Make a deposit of $200 (of the total of $1100 for Chapel only; $1200 for Auditorium only; or $2200 for both Chapel and Auditorium) at the time of scheduling the wedding date.
Sign an agreement to comply with the Policies and Procedures for the use of the Chapel.
Schedule the wedding date (time includes 3 hours) and the rehearsal date (one hour) on the calendar of the Chapel.
An additional $120 cash is required prior to the wedding day to pay for the Security Guards (2).
Please see additional details in the Policies and Procedures (you may obtain your copy from the Reservation Coordinator)