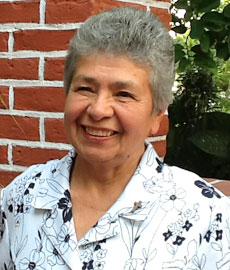 Sister Estela Guadalupe Tovar was born in San Jose Iturbide, Guanajuato, Mexico. She was one of the very early members of the Congregation in Mexico and celebrates her 50th anniversary of vows in 2014. Her academic background is in Catechetics and Leadership.
Sister Estela Guadalupe has been very adaptable to many new places and situations in her years of service. She started out doing catechetical work in Queretaro and Mexico City. She went on from there to various types of pastoral work. She was the Diocesan Director of Communidades de Base in Coahuila. She was active in the cursillo movement and did social work also. Sister has worked in three different locations in the United States. She served at San Fernando Cathedral in San Antonio as pastoral associate, and in Sanderson, TX she was pastoral coordinator in a parish without a resident priest. Her most recent mission was one that is very close to her heart. She was Diocesan Director of Criminal Justice Ministries for the San Angelo, TX diocese, a very large diocese with many correctional institutions. She worked with volunteers, families of inmates, halfway houses and directly with inmates.
Having served the community as novice director and vocation director, she was the first Regional Superior for two years in an experimental period in the late 90's, Sister was later elected for a six-year term, and in 2013 for another term.
Reflecting on the life of a religious, Sister says, "As religious we have given what we can, especially to the poor, but we have received back so much more."