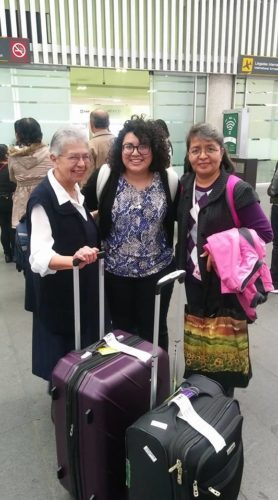 Sister Christina Cné Chavez, an Annual Professed Sister of Divine Providence, started her ministerial experience of her apostolic year in México.  She (pictured in the center) arrived in Mexico City on September 12, 2017 and was greeted at the Benito Juarez International Airport by Regional Superior, Sister Estela Guadalupe Tovar (pictured on the left) and Sister Elizabeth "Bety" Martínez (pictured on the right.)
Sister Christina keeps her CDP community informed through Snap Chat, Facebook and the electronic congregational bulletin board.  She arrived in Querétaro, QRO (where the regional motherhouse is located) during a very festive week, "Fiestas Patrias," which is when México celebrates its independence.  Sister Christina witnessed indigenous dancers in the local "placita" / central gathering place.  She has accompanied Sister Ely to Escuela Móvil and was impressed with the request of a young girl to give her calculations with fractions.  This enthused Sister Christina who is a math whiz!  She also joined Sister Angela at the Alvida Food Bank on a "good" day which encompassed filling a huge trailer for those who suffered from the Mexico City earthquake. This 8.1 earthquake caused almost 500 deaths and total destruction of numerous buildings.  She also visited the Marist University that Sister Mari Cruz is attending.
Even though Sister Christina did not experience the September 19 earthquake that shook Mexico City she has been in communication with Mexico City resident, Sister Lourdes Garcia, who shared her firsthand experience.  The three CDPs who live in Mexico City were not harmed and their home was not damaged.  May all our prayers continue for all rescue efforts and those still recovering from loss of loved ones, homes and basic services.
Sister Christina is amazed at the number of churches within walking distance of the motherhouse.  During her first few weeks, she has attended daily Mass in a different church and is enjoying the uniqueness of each one.  Her favorite one is the one dedicated to Revelation.  Divine Providence is a prominent devotion in Querétaro.  Sister Christina looks forward to many more experiences during her three month stay.  The CDP family looks forward to her updates.