July 30 is World Day Against Human Trafficking.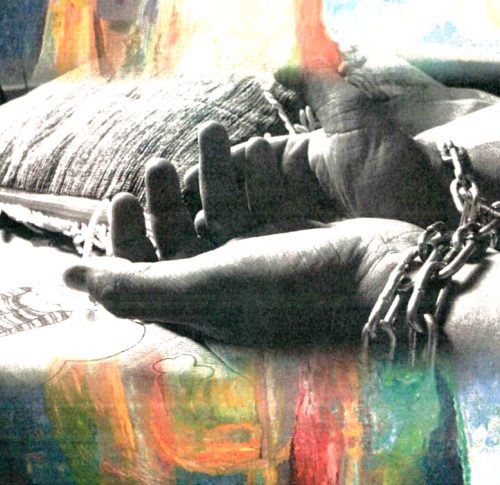 The Sisters of Divine Providence stand in solidarity and join those working toward raising awareness for the dignity of all who are marginalized, especially those caught in the terrible net of human trafficking.  Along with attending local meetings to build awareness, the Sisters of Divine Providence offered their daily Mass on Friday, July 28 for the repose of the souls who perished inside an 18 wheeler truck on Sunday, July 23.  The Sisters were joined by members of their #ProvidenceFamily from Our Lady of the Lake University, Providence Catholic School, Associates and members from various religious orders.  Prayers were offered to SET THE CAPTIVES FREE!  Prayers continue until human trafficking ends.
For other information, the United Nations' site has short videos and resources about human trafficking:
http://www.un.org/en/events/humantrafficking/
A prayer from the Education for Justice website follows.  It was written by Sr. Dianna Ortiz, OSU:
Jesus, Companion of the Trafficked
Every hour of the day, traffickers lurk and prey
On the innocent and most vulnerable of our society:
The abused and the runaway girls and boys,
The homeless and the transgender youth,
The migrants and the refugees.
Every hour of the day, traffickers sweet-talk their victims
With persuasive promises of legitimate and legal work, educational opportunities, and a better life.
Every hour of the day, traffickers mold their victims
Into child prostitutes, child soldiers, sex workers,
domestic slaves, and forced laborers,
And drum into them, "We own you. No one cares what happens to you."
Every hour of the day, traffickers burden their victims
With layers of fear; deprive them of food and sleep;
Force them under the lash of beatings; rape, torture, and imprisonment;
And strip them of their self-dignity and trust in humanity.
Every hour of the day, consumers of human trafficking live among us.
They come from all nations, they are rich and poor,
They are married with children,
They are world and faith leaders,
They are freedom fighters and insurgents,
And they are humanitarian workers and educators.
Like chameleons, they hide their identities and acts in plain sight,
All the while exposing their victims to physical and mental abuse.
Every hour of the day, women, children, and men cry out in anguished prayer:
"How long will our cries for help fall on deaf ears? How long will we be forgotten?"
Breathe into us their sorrows and losses.
Breathe into us their fears and despair.
Breathe into us their exhaustion and hunger.
Breathe into us their shame and humiliation.
Breathe into us their shattered trust in humanity.
Breathe into us their fragile hope to remain alive.
Jesus, Companion of the Trafficked, as we carry their suffering
May we be more vigilant protectors of all trafficked victims and survivors.
May people from every corner of the world work to hold traffickers and consumers accountable For this crime of modern day slavery. Amen.
—Dianna Ortiz, O.S.U.